With IT teams being continually challenged to improve performance and cut costs, efficient cybersecurity processes are vital. But without accurate information on security coverage and vulnerabilities, you're under constant pressure to firefight, not fireproof.
Panaseer fits easily into your existing stack and takes data from your security, IT and business solutions to give IT and Security teams a complete picture of Enterprise Cyber Hygiene.
A light touch system for IT teams, the platform's plug and play connectors can introduce new data sources in just a few hours, giving you the confidence that security analytics teams are working from the same source of collated, trusted data.
Dynamic and personalised dashboards display security coverage and performance for every asset against agreed measures to reveal vulnerabilities and threats. By creating campaigns, support tickets can be raised to drive remediation for the most critical patches or AV definitions and you can automatically track progress.
It keeps teams focused on the areas of greatest return to maximise both performance and budget.

Trusted Data
Focus on prioritising actions you should take to reduce risk, instead of focusing on whether the data you have is right.

Complete Visibility
Get an understanding on what's going on across business lines, regions and even devices, to identify areas of greatest cyber risk and highest return.

Actionable Insight
Automatic data collection and analysis shows the true security status and you can issue tickets and track progress through the dashboard.

Increased RoI
Gain more value from poorly deployed and siloed security tools and reduce time spent on manual reports and audits.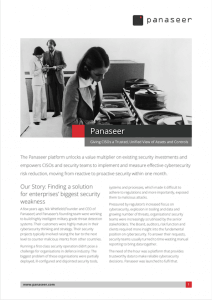 Giving CISOs a Trusted, Unified View of Assets and Controls
The Panaseer platform unlocks a value multiplier on existing security investments and empowers CISOs and security teams to implement and measure effective cybersecurity risk reduction, moving from reactive to proactive security within one month.
Download now
Get enchanted visibility on every single asset in your organisation