Security Team
Get The Complete Visibility Of All Assets And Controls
Today's security leaders manage more products and more devices in the face of ever-changing threats. Each new layer of security generates more data but leaves the fundamental question unanswered: What are my biggest risks?
Without a single, authoritative view of vulnerability the answer is always out of reach. Mistrust of the data leads to doubts about key decisions, requiring time-consuming analysis to back up every investment or action.
Panaseer delivers the insight you need to prioritise, take action and track success. A single source of truth for Security and IT teams, it acts as a value multiplier on existing security investments and drives collaboration on agreed priorities.
By collecting data from your security, IT and business solutions and making assessments of risk, it provides a continuous, consolidated view of your security status right from enterprise-level down to an individual device.
Panaseer's advanced automation also streamlines reporting, presenting actionable insight for different stakeholders.

Trusted Data
Focus on prioritising actions you should take to reduce risk, instead of focusing on whether the data you have is right.

Complete Visibility
Get an understanding on what's going on across business lines, regions and even devices, to identify areas of greatest cyber risk and highest return.

Actionable Insight
Move from being reactive and unable to answer questions, to proactive and having the right answers at the right time.

Increased RoI
Gain more value from poorly deployed and siloed security tools and reduce time spent on manual reports and audits.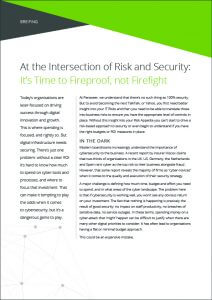 Is Your Cybersecurity Strategy Aligned To Your Risk Appetite?
If you haven't worked out your Risk Appetite, protected yourself accordingly and done everything in your power to avoid risk in the first place, you will be overspending when a breach or cyber-incident happens. In this insights paper we've covered 5 points to consider to avoid this scenario.
Download now
Not sure if the data you're dealing with is useful and meaningful?