Meet the Seer: Steve Katasi
August 16, 2022
Discover more about the people in our team: how they came to work in cybersecurity, what makes them tick, their favourite podcast. The important things in life and business.
Steve joined our sales team in March 2021, as Director of Strategic Accounts. That basically means he sells to the biggest, most complex organisations in the world, who also have the most exacting standards.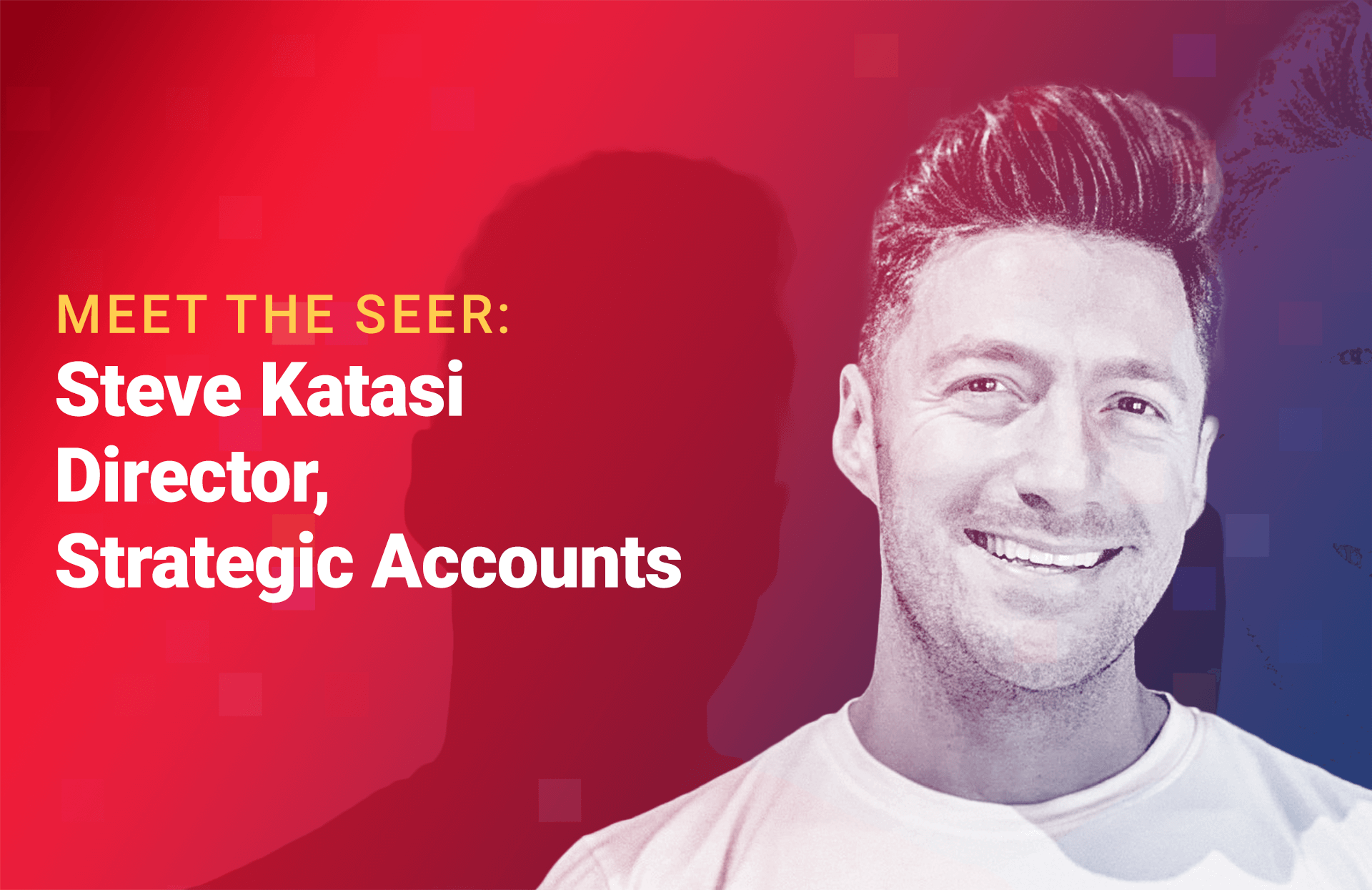 What did you want to be growing up?
My earliest memories of what I wanted to be were about creating. I wanted to build my mum a house. Then I wanted to build her a car. I suspect a lot of people have an insatiable drive to create things. It became quite clear early on that there was a merging of interests – mathematical and creative. Which to me means engineering and design. It was about creating something that you can touch feel and be proud of that has a technical bent to it whilst also being aesthetically appealing. My schooling, college and flirtation with university were all geared towards developing those skills.
What brought you to cybersecurity and Panaseer?
When I exited my first office-based job, I was at a crossroads. I wasn't sure of where to take my career. Everyone around me was saying that I have to get into sales. I wasn't doing selling but I had a strong ability to energise others around good ideas, and should therefore find a career that rewards you in doing so.
It came down to a choice between a small cybersecurity reseller in Waterloo and the plush, swanky foosball-laden offices of a major recruitment company. Cybersecurity was a gamble.
But IT security sales spoke to a few things in me. There was a technical itch I couldn't really scratch in recruitment. And I had enthusiasm for an industry that was evolving, becoming something great and important.
The enterprise sales environment is also one that rewards hard work and conviction. So much so that I hung up my hat in my mid-thirties after several cybersecurity sales roles. I relaxed into a more creative career, creating an online brand that explored self-discovery, curiosity, and exploration.
For Panaseer, in a way, I came out of retirement. Working alone on my own time with no boss, no corporate structure was great. But I became isolated without a team. I missed the drive of a big problem to solve and the strategy and complexity of enterprise sales.
So when I spoke with Jono (aka Jonathan Gill, now Panaseer's CEO) I had to get back in the hot seat. At a previous company, we had worked extremely well together, evangelising and leading a new category in cybersecurity. Panaseer had (and still have) a similar goal, and that, along with my unshakable trust in Jono, drew me to the company.
How do you describe your job to a layperson?
I help the largest businesses in the world protect themselves and their clients' data from cyber-attacks. I personally broker the deals and then ensure we keep our promises to these companies and people who took a risk on us with their reputation and money.
That's about as much as people tend to tolerate.
A day in the life…
There are a great many different types of salespeople. Each type has a hugely valuable role, and consequently a different day-to-day.
There are hunters and gatherers. There are farmers. There are high volume types, deal makers, and there are those that patiently pursue the big deals. Think rare, slow, and hard to bring down.
For me, my skills and interests align. I enjoy investing in the challenging, complex and most demanding organisations. That means having a ton of patience, seeing the relationship and campaign as an engineering challenge, and being utterly committed to their success.
This approach is high risk, has very low deal volume, and cerebrally and calorifically demanding.
But, when done right, with a little bit of "right place, right time", you catch the occasional whale of a long-term deal and relationship. I like those odds. I've made a career out of it!
Tactically my day comprises of:
Introducing prospect stakeholders to our solution, via zooms, meetings, or events.
Consulting and co-building solutions and campaigns with my clients.
Holding my clients and our team to account. There's a fair bit of chasing down.
Campaigning internally for what my clients need from us to have a successful outcome and business value.
Producing content that educates and inspires.
Negotiating deals and contracts.
Forecasting revenue.
What are you most proud of about your role at Panaseer?
In the year and half or so since I have been at Panaseer, there has been a rapid professionalisation of our messaging, go to market, and ability to serve complex companies that have incredibly high standards. The team has come a long way in just a year and a half, and I am grateful to be part of such a capable, switched on and high-passion company. We have elevated to a level that's on par with some of the best firms in the world. And that's exciting.
For example, I look after a client who is considered one of the premier financial institutions globally. Their standards are so high, their business so complex, and the engineering mindsight is top 1%. We're a small company, yet the level of trust and partnership they have in us would be a shock to most cybersecurity vendors and service providers.
We are punching above our weight. That comes down to great people who get things done, have high integrity, produce great technology, and unlock value that most others fail to do.
What non-cyber related skill has been the most valuable to you?
I have a blend of character strengths and skills that I have developed that allow me to be productive in this space.
Vision, creativity, and design. Perhaps not typical sales or cybersecurity skills, but really useful to simplify the complex and communicate in different ways.
Engineering mindset. Helps to create understanding and affiliation with technical stakeholders, but also supports strategy and keeping two steps ahead.
There's always one more question. If you manage that curiosity well, you can learn a lot.
Campaign strategy. This is a somewhat underrated skill in sales. If you're going after big complex deals, you're working almost like a politician trying to broker a complex policy arrangement. It's going to take years, there are many moving parts, and you need to drive multiple stakeholders towards a common goal.
One for fun: Any podcast recommendations?
I have an insatiable appetite for podcasts. I used to run a podcast, as I mentioned, and I also appeared on The Brutal Truth Sales Podcast, talking about complex IT selling.
Here are a few recommendations: